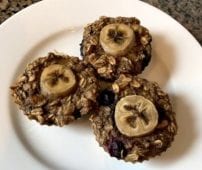 Meal Prep : Freezer Friendly Oatmeal Cups
Makes anywhere from 6-18 servings depending on how you bake and serve. Use for breakfast or as a snack any time of day!
Prep Time

20 Minutes

Cook Time

25 Minutes

Total Time

45 Minutes

Serves

18 People
Ingredients
3 Bananas, mashed

1 cup of your favorite fruit, diced

3 cups oats

1 1/2 TBSP. cinnamon

1/2 tsp. salt

1 TBSP. baking powder

1 cup milk or milk alternative

5 eggs, beaten

1 tsp.vanilla extract

2-4 TBSP maple syrup depending on desired sweetness
Instructions
Preheat oven to 375.
Mix together all ingredients in a large bowl. Pour into prepped casserole dish (9x9), sheet pan, or muffin tin.
Bake 25-30 minutes at 375 depending on desired doneness.
Oatmeal cups are a great starter recipe for those who are wanting to do some meal prepping but arent sure where to start.  It is one of my favorites because of its versatility; it makes a great breakfast, snack, or treat. I have made it into a large "cake", a sheet pan, and grab-and-go muffins- anything goes so it can suit your particular needs (do you need it for a snack item? a breakfast?) It's also realllllyyy hard to screw this recipe up, its kid and adult friendly (my 4 year old can make this), and it can be prepared ahead of time and frozen and maintain its integrity! 
Feel free to change out the fruits & spices listed to suit your taste preferences. Some variations I have done include: peaches and cinnamon, apple/pear, raisins with apple pie spice,  carrot cake style with shredded carrot, coconut & zucchini with raisins and walnuts, and sweet potato pie style with pecans. 
Don't forget to top it anyway you like! Some of my favorites: nut butters, greek yogurt, extra fruit, cream cheese or even ice cream. 

Give it a try and let me know what your favorite combination is!