First things first: it is 100% OK to use and enjoy the items you already use to flavor your foods. Yes really! ESPECIALLY for those of you who are really working hard to get more color on your plate. If vegetables are something you struggle with but would like to include more of them for their benefits, pairing them with flavors you already enjoy is definitely a gateway to enjoying those foods more. I know diet culture makes us feel like we need to enjoy our vegetables as plain as possible but that is just not the case. Vegetables DO taste great with cheese sprinkled on top and should be enjoyed that way if that is what you like. 
Some other concerns I usually hear with using flavorings you already enjoy: 
SALT/SODIUM: Many people are afraid to add in any extra sodium. While it is true the general recommendation for the average American is  2300mg/day, DID YOU KNOW that athletes typically require more? Sodium is the electrolyte we lose the most of in our sweat. In fact, when training its possible to lose up to 2300mg in a single sweat session. Lack of sodium, not potassium, is often the cause of muscle cramps. As a bonus, sodium also encourages more fluid intake (think of how thirsty you were after your last pizza or burrito stop) which is another way to help you stay hydrated. 
FAT/CALORIES: Most athletes I work with NEED MORE CALORIES. Fat is honestly the easiest way to add this in as there are 9 calories per gram of fat versus 4 calories per gram of protein and carbohydrate. Not to mention fats add a lot of flavor! If you are worried about consuming fat, focusing on heart-healthy fats (monounsaturated, polyunsaturated) such as nuts and seeds, avocado, olive oil, avocado oil, walnut oil, (and more however we'll keep to spices and seasonings today).  One of my favorite ways to add flavor is a few tablespoons of olive oil in a dressing or in roasted vegetables and this is a SUPER easy way to not only flavor food but also sneak in more energy to reach your fueling goals. 
That being said, here are some of my favorite ways to season foods: 
Choose by Cuisine

: Italian, Spanish, Mediterranean, Asian, Indian, Soul Food and so on. This can help you generate ideas and perhaps plan combinations you hadn't considered before. Not sure what to choose or looking for something new? Cruise the dressing, condiment, or ethnic aisles for different sauces and seasoning ideas. Tip: I will also use this as a way to meal plan for the week Italian one night, Indian another, and so on. 

Please note this is NOT an inclusive list by any means. I am only sharing my experience with different flavors and some cuisines I either haven't perfected or just aren't in my wheelhouse. I am open to comments helping me add to this section!  Some of my personal favorites: 
Asian/Fusion:
Gochujang (adds a spicy Korean kick!)
Teriyaki
Sriracha (spicy!)
Chili Garlic Sauce (spicy!)
Soy Sauce or Coconut Aminos
Peanut Sauce
Sesame Oil  Sesame Seeds
Rice Vinegar
Thai Basil
Fish Sauce
Ginger (buy the squeeze tube of ginger and thank me later!)
Spanish/Mexican/Texmex
Salsa (try varying kinds that add fruit!)
Cotija Cheese
Cheddar Cheese
BBQ Sauce
Hot Sauce
Taco Seasoning (this is great for a variety of vegetables!)
Chili Lime Seasoning, Sauce, or Marinade
Chili powder
Cumin
Cilantro
Lime
Chimichurri
Mediterranean
Za'atar
Mint
Lemon
Canned/Jarred Brined Veggies (such as olives, artichokes, or roasted red peppers)
Hummus
Greek seasonings
Balsamic Vinegar
Baba ganoush
Olive Oil
Pine Nuts Tahini
Italian:
Spaghetti or Pizza Sauce
Italian Seasoning
Pesto (for something new try a sundried tomato pesto!)
Feta Cheese
Parmesan Cheese
Goat Cheese
Good Seasonings Italian Dressing Mix (comes in a packet)
Garlic Sun Dried Tomatoes in oil Basil
Indian
Tikka Masala
Curry Coconut Milk
Miscellaneous
Old Bay Seasoning
Cajun Seasoning
Poultry Seasoning
Nutritional Yeast (great source of B12 for vegans)
Apple Pie or Pumpkin Pie spice for smoothies or oats
Honey Dijon mustard (or other mustards!) Green Goddess Dressing
Mirepoix (great for a variety of soups, stews, and sauces)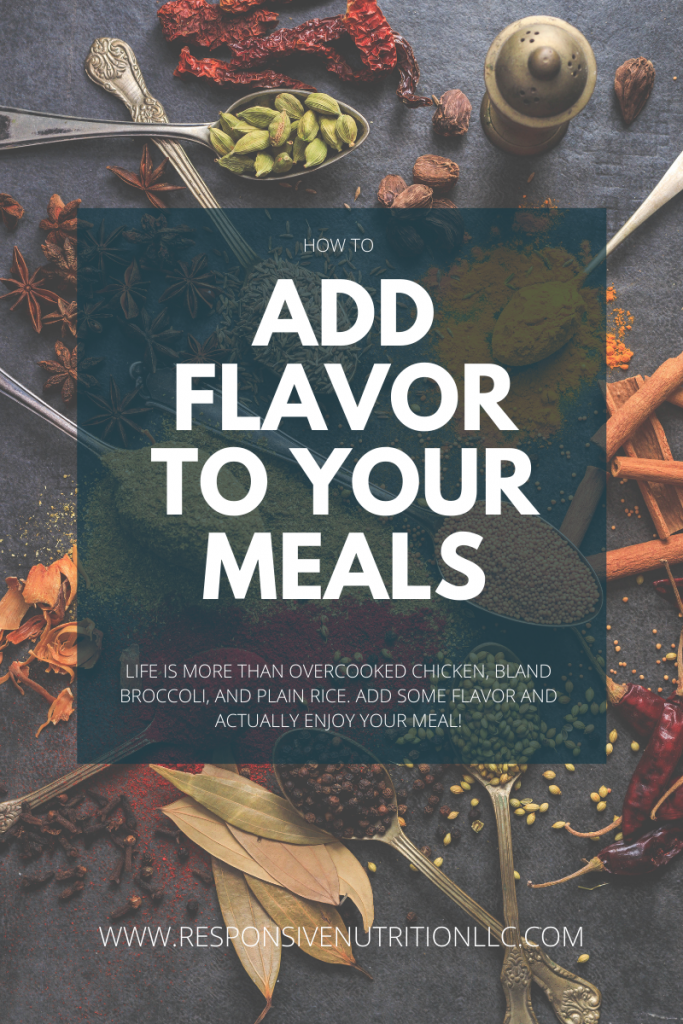 Some additional options might include: 
Consider making "copycat" versions of your restaurant favorites

. If there is something a restaurant makes and you can't have it all the time often you can make a copycat version. Some ways to do this:

Check ingredients listed on the menu or in their nutrition information. Depending on the restaurant they will list what they use for those who have allergies. Head to their website and see what is available!

Do a Google Search. For instance, I love Trader Joe's Chili Lime Chicken Burgers but I am too far away to shop at TJ's frequently. I googled "Trader Joe's Copycat Chili Lime Chicken Burgers" and tada! Another blogger had made my dreams a reality. I also have a veggie burger version of this 

here

. 

 Search Google images or Pinterest. Not sure what you are looking for? Use the search tool. Sometimes you are just looking for a flavor to eat but can't define it. This is when I will go to Google images or Pinterest for inspiration. I use keywords that I have in mind like "easy lunches" or "hot lunch ideas" and go from there. It isn't always fruitful but it can be a starting point for brain storming! 
Use existing pantry ingredients. This can be a way to find inspiration AND reduce food waste. If you have an item you simply can't get rid of but don't want to waste, type it into fridgetotable to find thousands of ways to use that food item up! 
Use or create your own oil-based dressings to marinate, cook, or top meats or to dress your vegetables- fresh or cooked.

To create your own dressing; try olive oil paired with different kinds of vinegars, lime, orange, or lemon juices, different types of mustard. Add a little salt and pepper and you've got yourself a dressing!

Choose tangy cheese options. If you are nervous about adding cheese in or just want to add a kick, f

eta, goat, blue cheese, parmesan often pack a punch in small amounts!

When it comes to meats and tofu:

sear first, then cook! In addition, consider chopping these items up prior to seasoning and cooking to get more flavor on all sides of the protein. 

Try adding Fruit!

Fruit can add a sweeter taste to different salads, vegetables, or even meats. Try marinating meat with mango salsa, add blueberries to a salad, or mix cranberries into your next cooked vegetable dish.

Carmelize!

Carmelize fruit or onion to add flavor to these foods which in turn will add more flavor to your dishes. 

Consider pairing with your favorite foods to add flavor.

If you're not ready for new flavors but are looking to add in newer foods, don't be afraid to combine favorites with new things; it's often how we learn to like those new options and add some nutrients to our plate. For example, adding zucchini to spaghetti or blending shredded carrots or broccoli into your mac and cheese. 

Seek out experts

:  While I love to cook and create however I am by no means an expert. There are many culinary dietitians and bloggers who focus solely on recipe and flavor creation. Here are some of my favorite resources when I need help or inspiration: 
What are some of your favorites? Share them below and I will update!